Should You Try Low Back Pain Treatment from a Salina Chiropractor?
Should You Try Low Back Pain Treatment from a Salina Chiropractor?
Written By Chiropractic Wellness Center on October 26, 2020
---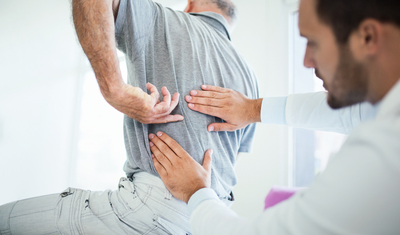 Many who suffer from lower back pain think the only solution is surgery.
The problem with this remedy is two-fold. First, it's the most invasive option. Second, it doesn't always yield successful results.
Thankfully, your Salina chiropractor can provide you with low back pain treatment that is minimally invasive and is, in some cases, more effective than surgery.
Low Back Pain – Common Causes
Common low back pain causes include:
Spinal misalignment
Injury or disease
A sedentary lifestyle
Arthritis
Bulging discs
Osteoporosis
Americans don't move nearly as much as they should, mainly because they spend most of their day working on a computer. Sometimes, due to the high demands of the job, they don't even get up to take a break, let alone take the time to stretch when they do. And ergonomics in the workplace aren't always what they should be.
Injury, disease, and spinal misalignment from a sedentary lifestyle cause an inflammatory response, leading to:
Pain
Muscle, tendon, and ligament tension
Poor flexibility
Reduced mobility
What You Can Expect from a Chiropractic Low Back Pain Treatment Plan
If you're suffering from any of the symptoms of lower back pain, you're in luck. Your Salina chiropractor can create a custom low back pain treatment plan that will fit your unique needs.
After a thorough examination (which can include diagnostic testing such as x-rays), Drs. Maria and Jeff Rapp will make a plan that addresses the root cause of your back pain.
Your treatment plan can include:
Spinal adjustments
Spinal decompression therapy
Cold laser therapy
They may even recommend certain lifestyle changes, like:
Lower back stretches
Daily exercise
Reducing the use of electronic devices
Investing in a better desk chair
Changing your desk area to comply with ergonomic recommendations
Spinal adjustments and movement therapy are a winning combination for relief.
Choose a Chiropractic Team That Focuses on Whole Body Health
The team at Chiropractic Wellness Center wants to help you live a pain-free, healthy life. When you book your appointment with our team, we'll not only address the root cause of your pain, but we'll also recommend a whole-body approach to better health.
Would you like to know more about how your Salina chiropractor can help you take steps to improve your health and wellness? Contact us today for a consultation at 785-827-7779.

Posted In: Chiropractic Low Back Pain Treatment